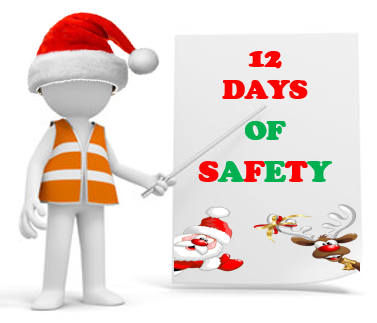 During the Christmas season, we are all trying to outdo the neighbors by having the best-lit house on the block and busy hustling about participating in the annual festive family gatherings of meals and traditions. But we need to make sure we are still remembering to keep safety in mind.
According to an infographic posted on EHS today, with neighbors vying to take home the title of "Best Display" in the - official and unofficial - house decorating competitions in communities across the nation and families preparing inventive holiday meals and a few dozen Christmas cookies, the holiday season has all of the ingredients for safety fails.
Throw in some eggnog, a bit of snow and it can be a recipe for disaster. Thankfully, Creative Safety Supply, an Oregon-based visual safety provider, has put together a holiday-themed safety guide.
According to the NFPA, U.S. fire departments respond to an average of 230 home fires
that start with Christmas trees each year. Electrical failures or malfunctions are a factor
in 1/3 of all Christmas tree fires. A little safety can go a long way for keeping the
HAPPY in your HOLIDAYS!
Santa's tip: Don't drink and drive. Santa would call a cab!



To view this article its entirety, please visit EHS TODAY: 12 DAYS OF CHRISTMAS SAFETY INFOGRAPHIC or you can view the infographic information at CREATIVE SAFETY SUPPLY: CHRISTMAS SAFETY
For more information on Workplace Safety and Training Solutions, check out our
Safety and Osha Training section!