Continuing Education and Training
One of the best methods for improving production, quality and employee safety is to ensure that employees are properly trained prior to being placed in the production process. It doesn't help any organization to have the best equipment and process flow, if the employees are not trained on the proper procedures and safe guards associated with the operation.
Regardless of your safety training requirements, each company must figure out the best method to achieve the training. Timing is one of the biggest issues prohibiting companies to achieve the required employee safety training.
Our training modules are designed to allow employee training when time is available. We will help you develop a customized safety training strategy, which will include industry and regulatory required training. Our goal is to allow you to address both production and training goals, without jeopardizing one another.
Schedule Customized Courses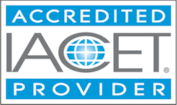 Safety Resources, Inc. is accredited by the International Association for Continuing Education and Training (IACET) and is accredited to issue the IACET CEU. Our qualified trainers will work with your company to develop a customized course or you can opt to utilize one of our current courses. Courses regardless of their structure are continually being evaluated by learners and management to ensure
the most quality experience.
Just a few of the courses we offer:
Aerial Work Platforms
Bloodborne Pathogens
Confined Space
Electrical Safety
Employee Orientation
Fall Protection Competent Person
Forklift/Lull Operator
Hazard Communication/Global Harmonized System
Lockout/Tagout
Machine Guarding
Materials Handling/Storage
OSHA 10 Hour Construction and General Industry
OSHA 30 Hour Construction and General Industry
OSHA 300 Log/Recordkeeping
Qualified Rigger and Signal Person
PPE / Respiratory Protection
Slips and Falls
Warehouse and Shop Safety