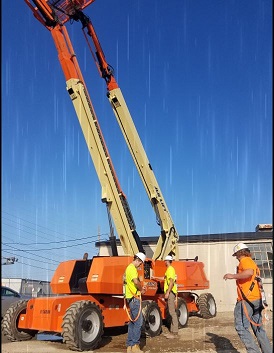 Workers are observed preparing for the start of their shift. During this shift, they will utilize an aerial lift to perform operations. Proper means of personal fall protection is being worn and pre-lift safety checks are currently being done to ensure the lift is safe for use.
Additional safety information can be found on the OSHA Fact Sheet regarding Aerial Lifts.
For more information on Workplace Safety and Training Solutions, check out our
Safety and OSHA Training section!
Do you have a training need or a question for one of our Safety Consultants?
We are here for you – Contact Us.
Check out our Upcoming Networking Events!
Make sure to join us on the second Wednesday of each month for our monthly Safety Facts and Snacks. For more information on the schedule of events and registration,
visit Safety Facts and Snacks.
08/29/19