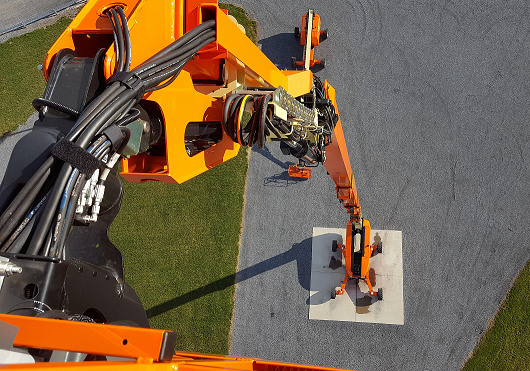 While attending JLG instructor training in McConnellsville PA, Safety Resources, Inc. consultant, Kevin Donohue, was afforded the voluntary opportunity to operate the world's largest self-propelled aerial lift!
Vertically stretching a full 185 feet, this boom is able to reach unprecedented heights! The JLG 1850SJ has a maximum capacity of 1,000 pounds, and the boom extends from the ground to full height in less than five minutes.
For accepting this exciting opportunity, Kevin was rewarded with beautiful mountain views and a coveted JLG 1850 pin he proudly wears on his fall protection body harness.

For more information on Workplace Safety and Training Solutions, check out our
Safety and OSHA Training section!
Do you have a training need or a question for one of our Safety Consultants?
We are here for you – Contact Us.
Check out our Upcoming Networking Events!
Read what our consultants have to say – The Consultant's Corner.
Make sure to join us each quarter for our Just The Facts Without The Snacks Zoom sessions! For more information on the schedule of events and registration, visit
Just The Facts Without The Snacks.
02172021