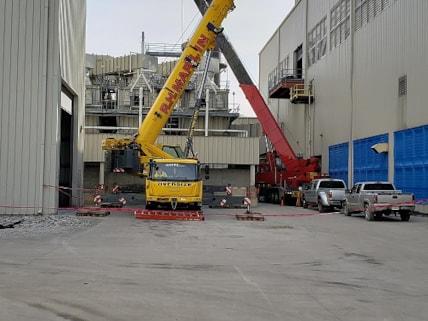 According to Wikipedia.com, a crane is defined as a type of machine, generally equipped with a hoist rope, wire ropes or chains, and sheaves, that can be used both to lift and lower materials and to move them horizontally. It is mainly used for lifting heavy things and transporting them to other places.
This captivating piece of machinery can also use one or more simpler machines to create a mechanical advantage to move loads beyond any normal capability of a human. Every day, we use cranes in the transport industry for loading and unloading of freight, in the construction industry for movement of materials, and in the manufacturing industry for the assembly of heavy equipment.
But the questions remains, as pictured above, are these captivating machines actually…Dueling?
Looks can be deceiving, as these cranes are actually 40 feet apart and their swing radiuses are in opposite directions.
If we took a closer look at the larger crane: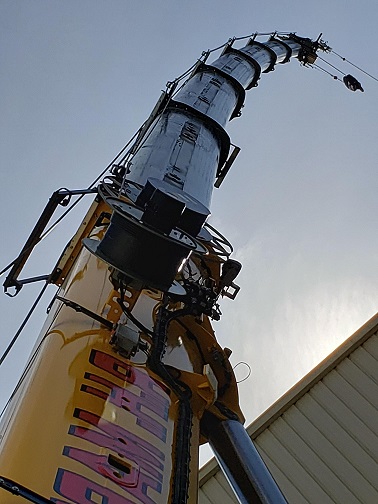 It only shows a little flex; when in reality - 143 feet of boom and jib flexes this much with a 1,200 lb. load! So THERE's your answer!
For more information on Workplace Safety and Training Solutions, check out our
Safety and OSHA Training section!
Do you have a training need or a question for one of our Safety Consultants?
We are here for you – Contact Us.
Check out our Upcoming Networking Events!
Read what our consultants have to say – The Consultant's Corner.
Make sure to join us for Safety Facts and Snacks. For more information on the schedule of events and registration, visit Safety Facts and Snacks.
08/27//2020