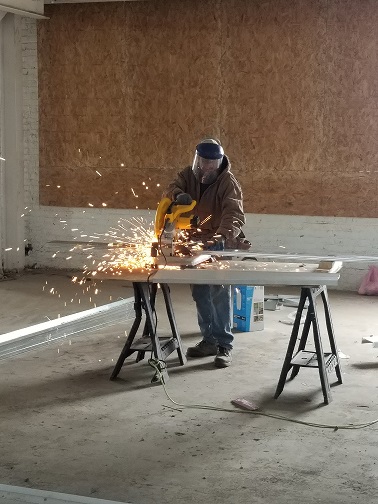 Cutting operations are paramount to construction projects. In years past, these types of operations have led to high injury rates, such as loss of a digit, eye or worse. With the help of implemented safe work practices, this injury rate has decreased.
Typical safe work practices include:
Utilizing eye and face protection (Safety glasses combined with a face shield),

Utilizing hand protection (Safety gloves), and

Operating a compliant hand/power tool (No recognizable damage and guarding present - if required).
In this picture, the subcontractor is utilizing long sleeves for arm protection as metal is being cut.
Following these safe work practices will help ensure no digits or eyes go missing!
For more information on Workplace Safety and Training Solutions, check out our
Safety and OSHA Training section!
Do you have a training need or a question for one of our Safety Consultants?
We are here for you – Contact Us.
Check out our Upcoming Networking Events!
Read what our consultants have to say – The Consultant's Corner.
Make sure to join us on the second Wednesday of each month for our monthly Safety Facts and Snacks. For more information on the schedule of events and registration, visit Safety Facts and Snacks.
12/13/19