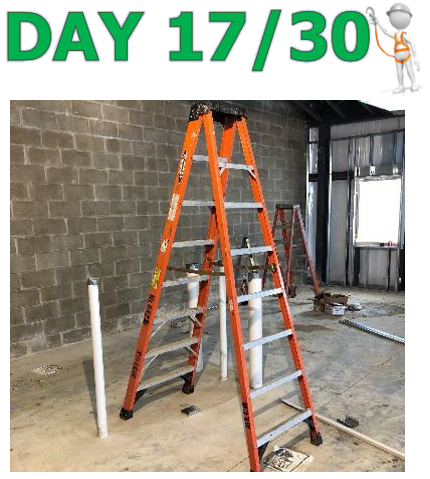 Stepladders: A stepladder is a portable, self-supporting, A-frame ladder. It has two front side rails and two rear side rails. Generally, there are steps mounted between the front side rails and bracing between the rear side rails.
Hazards can be eliminated or substantially reduced by following good safety practices.
Here are some Dos and Don'ts from OSHA:
SAFE STEPLADDER USE - DO:
Read and follow all the manufacturer's instructions and labels on the ladder.

Look for overhead power lines before handling or climbing a ladder.

Maintain a 3-point contact (two hands and a foot, or two feet and a hand) when climbing or descending a ladder.

Stay near the middle of the ladder and face the ladder while climbing up or down.

Use a barricade to keep traffic away from the ladder.

Keep ladders free of any slippery materials.

Only put ladders on a stable and level surface that is not slippery.
SAFE STEPLADDER USE - DO NOT:
Use ladders for a purpose other than that for which they were designed.




(For example, do not use a folded stepladder as a single ladder.)

Use a stepladder with spreaders unlocked.

Use the top step or cap as a step.

Place a ladder on boxes, barrels or other unstable bases.

Move or shift a ladder with a person or equipment on the ladder.

Use cross bracing on the rear of stepladders for climbing.

Paint a ladder with opaque coatings.

Use a damaged ladder.

Leave tools, materials or equipment on stepladder.

Use a stepladder horizontally like a platform.

Use a metal stepladder near power lines or electrical equipment.
For more information on Workplace Safety and Training Solutions, check out our
Safety and OSHA Training section!
Do You have a training need or a question for one of our Safety Consultants?
We are here for you – Contact Us.
Make sure to join us on the second Tuesday of each month for our monthly Safety Facts and Snacks. For more information on the schedule of events and registration,
visit Safety Facts and Snacks.
06/17/19