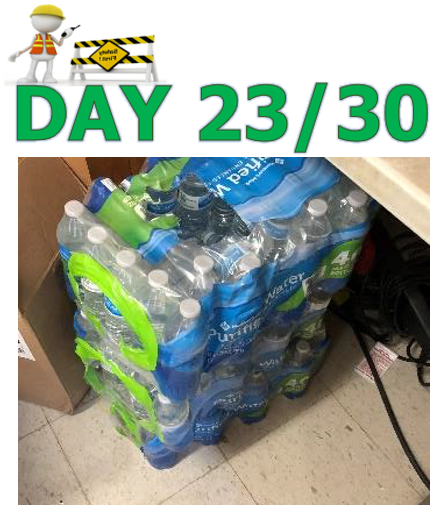 Sanitation/Hydration: Your body is always working to maintain balance and sustain its core temperature. Our bodies are constantly exposed to elements that increase body heat and deplete hydration levels, so workers must be extra careful when working in hot or cold conditions.
Symptoms of dehydration include:
Thirst;
Fatigue;
Muscle cramps;
Nausea, dizziness or confusion;
Excessive perspiration; and
Hot, dry skin.
Prevention is key to minimizing the risks associated with the effects of dehydration.
Water should be available within the work area for all employees in accordance with
29 CFR §1926.51.
Consider the following to promote hydration in the workplace:
Have water easily and readily available.
Provide incentives such as reusable water bottles and/or hydration packs.
Set up shelter and enforce breaks for all employees.
Provide appropriate personal protective equipment (PPE) to help workers keep cool.
Provide education and training on prevention and preparedness.
Water is an essential nutrient for all living things!
For more information on Workplace Safety and Training Solutions, check out our
Safety and OSHA Training section!
Do You have a training need or a question for one of our Safety Consultants?
We are here for you – Contact Us.
Make sure to join us on the second Tuesday of each month for our monthly Safety Facts and Snacks. For more information on the schedule of events and registration,
visit Safety Facts and Snacks.
06/23/19