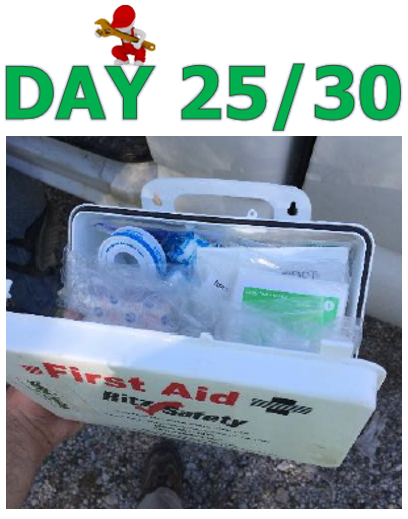 Medical Services and First Aid: Have you checked your first aid work cabinet lately? Having up-to-date and in-stock supplies at your facility is critical to your employee's safety!
OSHA states in 29 CFR §1910.151(b), "First aid supplies are required to be readily available". Your first aid program should correspond to the hazards which can be reasonably expected to occur in the workplace.
Here are some OSHA First Aid "best practices":
Assess the risks and design a first aid program specific to your worksite(s);

Obtain estimates of EMS response times for all locations and all times of day and night;

Put policies and procedures in writing, and communicate to all employees;

Address first aid training needs. First-aid courses should be individualized to the needs of the workplace. First-aid training should be repeated periodically to maintain and update knowledge and skills. Outdated training and reference materials should be replaced or removed.

Give a specific person the responsibility for choosing the types and amounts of first-aid supplies and for maintaining these supplies.

The supplies must be adequate, should reflect the kinds of injuries that occur, and must be stored in an area where they are readily available for emergency access.

The first-aid program should be reviewed periodically to determine if it continues to address the needs of the specific workplace.

Training, supplies, equipment and first-aid policies should be added or modified to account for changes in workplace safety and health hazards, worksite locations and worker schedules since the last program review.

An automated external defibrillator (AED) should be considered when selecting first-aid supplies and equipment.

Consultation with the local fire and rescue service or emergency medical professionals may be beneficial.
For information on the minimally-acceptable number and type of first-aid supplies for first-aid kits required by OSHA, visit CFR 29 1910.266
For more information on Workplace Safety and Training Solutions, check out our
Safety and OSHA Training section!
Do You have a training need or a question for one of our Safety Consultants?
We are here for you – Contact Us.
Make sure to join us on the second Tuesday of each month for our monthly Safety Facts and Snacks. For more information on the schedule of events and registration,
visit Safety Facts and Snacks.
06/25/19