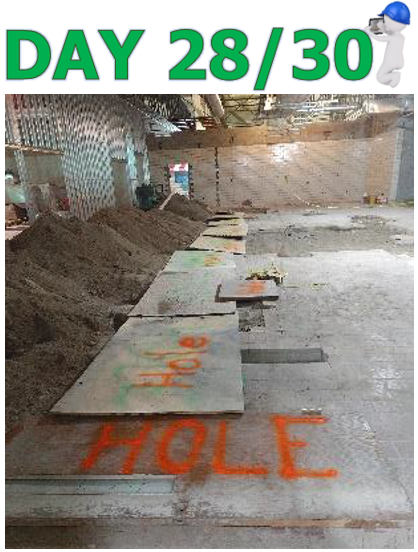 Fall Protection/Walking and Working Surfaces: OSHA defines a floor hole as a gap or open space in a floor, roof, horizontal walking or working surface, or similar surface that is at least 2 inches (5 cm) in its least dimension.
OSHA §1926.501(b)(4) states that "Each employee on walking/working surfaces shall be protected from falling through holes... and from tripping in or stepping into or through holes..."
When used to protect employees, hole covers must be able to support 2x the weight of the employees, equipment, and their materials.
Covers need to be color coded or marked with the word "Hole" or "Cover".
Never assume everyone will see the hole and step around it.
Never assume that caution tape is enough.
A slip or trip near the hole can result in a serious injury or worse! Proper covers, guardrails and signage must be utilized on and near floor hole hazards.
For more information on Workplace Safety and Training Solutions, check out our
Safety and OSHA Training section!
Do You have a training need or a question for one of our Safety Consultants?
We are here for you – Contact Us.
Make sure to join us on the second Tuesday of each month for our monthly Safety Facts and Snacks. For more information on the schedule of events and registration,
visit Safety Facts and Snacks.
06/28/19