Cancer is a term that incites a sense of fear and uncertainty. Construction workers are at a higher risk of developing certain cancers compared to the general population. Reports indicate that construction projects are even more prone to cancer then other occupational settings. The most significant cause of these cancers can be linked to asbestos and silica containing materials.
Over the past decades, illnesses such as mesothelioma and chronic pulmonary disease have risen. Unfortunately, these chronic illnesses are only controlled by preventative measures and proper personal protective equipment.
UNDERSTANDING THE HAZARDS:
Prior to the 1970's, before the days of OSHA, asbestos and silica were actively mined for building materials. It is estimated that over 20% of those workers were stricken with some form of chronic lung diseases. Even with the standards set forth by OSHA, air quality is often overlooked when planning a task. OSHA reports that two million workers are exposed to crystalline silica annually and over 800,000 workers, during operations, are exposed to levels beyond the recommended limit. Respirable silica dust can be generated through operations that involve cutting, drilling, and sanding. Asbestos particles can become airborne by simply being disturbed.
Respriable particles are 100 times smaller than a grain of sand.
PROTECTING WORKERS:
The first step for any company to is to develop a written program that communicates hazards, as well as demonstrates the procedure for risk assessment for operations. A consistent training schedule should be developed to educate workers on the hazards and protection that will be used for controlling the hazards. Workers should be knowledgeable about the process involved in assessing a work area, planning for operations, and implementation of proper control measures.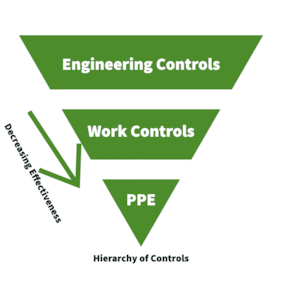 Companies should implement engineering and work practice controls to decrease exposure. Common operations that involve power tools, which can include masonry saws and drills, can easily cause fibers to become airborne; however, OSHA provides approved methods for dust control for your jobsite. These can be found in OSHA Fact Sheet or Table 1 Silica. For operations that are assessed and deemed "above the permissible exposure level", proper medical monitoring systems should be developed. This will include routine medical exams for all employees working in areas with silica concentration above 50 (µg/m³) or when asbestos particles are above .2 (f/c2). Common practices will include local ventilation systems, which should filter out particles from work zones at a level based on the amount of dust produced. Water integrated systems should be utilized to weigh down particles and prevent them from becoming airborne. Always avoid dry sweeping or using compressed air to clear areas with known hazards. A popular form of protection involves respirators and proper personal protective equipment.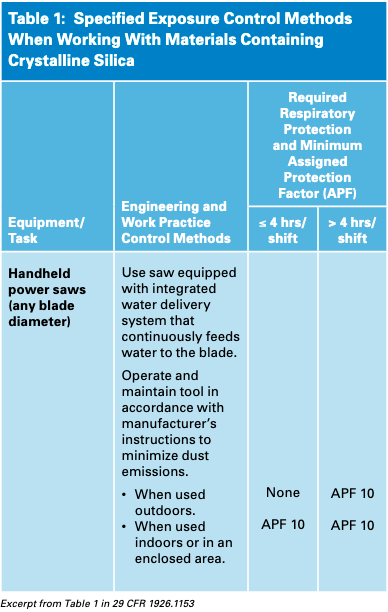 Any particles produced during operations may have an adverse effect on a worker's health. Ensure any work zones with potential for silica or asbestos hazards are communicated properly. Signage and delineation of work zones with marking tape or barricades is always a best practice for maintaining a safe site. Discuss the hazards involved in any activities, and make sure not to omit air quality. Communicate the importance of these protection factors and require employees to always wear proper personal protective equipment.