By: Mark Williams, Safety Consultant
Beginning September 23, 2017 the long awaited OSHA silica standard (29 CFR 1926.1153) update will go into effect. The new standard has been redesigned with the purpose of providing workers exposed to respirable crystalline silica with the maximum protection possible. The standard is set up to allow employers to use predetermined compliance solutions (outlined in Table 1) or to design their own for their particular workplaces and job functions. With the new standard, employers must make some key changes to their silica policies in order to maintain OSHA compliance and provide their workers a safer environment in regard to silica exposure.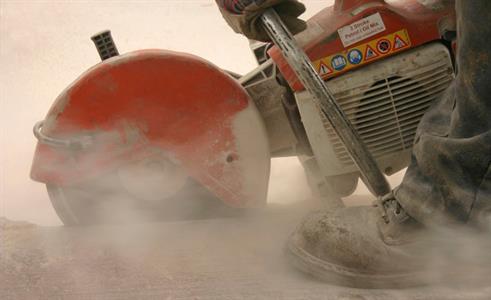 The update reduces the permissible exposure limit of crystalline silica from 250 micrograms per cubic meter of air over an 8-hour TWA to 50 micrograms over the same. OSHA has put together a chart "Table 1" on recommended control practices for a list of commonly performed tasks known to expose workers to silica. For employers following the control methods in OSHA Table 1, no further air quality testing is required unless it is noted the Table 1 control method is not effective and noticeable amounts of silica dust are still present. For employers that elect to utilize alternative control methods, industry-wide objective data must be available demonstrating exposure levels are below the levels mentioned in the standard. If such data is unavailable, exposure assessments must be conducted to prove exposure levels are below the action level. Exposure assessments must be conducted and reviewed to determine if the control method is effectively reducing workers' exposure to below the action level of 25 µg/m3 Where results do not reveal exposure levels are below the action level, employers must conduct ongoing assessments to monitor workers' exposure levels and compare results while instituting other effective control methods.
Regardless of the exposure control method of choice, all construction employers affected by this standard must complete the following core steps:
·Establish and implement a written exposure control plan that identifies tasks which expose employees to respirable crystalline silica and the methods the employee plans to use to protect workers.
·Designate a competent person who will implement the exposure control plan.
·Train employees on effective practices to limit exposure to respirable crystalline silica.
·Adjust housekeeping practices to minimize worker exposure to silica dust by eliminating dry sweeping and compressed and using a HEPA-filtered vacuum system or wet method.
·Provide medical exams to employees that are exposed to silica dust to such an extent that they must wear a respirator 30 or more days a year.
·File and maintain records of workers' silica exposure and any related medical treatment.
For more information on what this new rule means for your industry or company or assistance with compliance, contact Safety Resources, Inc.
References:
OSHA.gov. OSHA Fact Sheet "OSHA's Crystalline Silica Rule: Construction."
Slowey, Kim. "What contractors need to know about OSHA's new silica rule." constructiondive.com. 22 Aug. 2017.