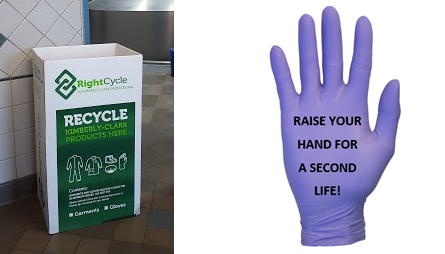 According to EHS today, industrial manufacturing operations have long recognized the benefits of recycling as a way to reduce their solid waste streams. And many have gotten quite good at recycling primary commodities such as cardboard, paper, plastic and aluminum.
To get to a higher level of waste diversion and potentially reach zero waste, businesses are looking more and more at recycling nontraditional or secondary commodities.
One relatively new form of recycling in this category is glove and apparel recycling. Several years ago, Kimberly-Clark Professional recognized the need for a way to divert these single-use products from the landfill. In 2011, they launched The RightCycle Program, a large-scale recycling effort for non-hazardous lab and cleanroom waste. Beginning with a handful of companies, the program collected just under two tons of materials that first year.
Five years later, it was expanded to include companies with industrial manufacturing operations. Today, it has more than 300 participants and has diverted more than 600 tons of waste that would otherwise have been landfilled or incinerated. Its future goal is to double the number of participants and quadruple the amount of waste diverted each year.
The RightCycle Program enables companies to recycle thin mil nitrile gloves, apparel (including accessories such as hoods, masks, shoe covers and other items), safety eyewear and 100% polypropylene wipers. To qualify for the program, the items must be free of hazardous materials, biohazards and wet food.
As a rule of thumb, if these types of personal protective equipment (PPE) are being disposed of as regular trash, they should be acceptable for the program. The items are then sent to recyclers in the United States and turned into plastic pellets that are used to create durable consumer goods such as flowerpots and lawn furniture.
"By recycling rather than discarding nitrile gloves, safety eyewear and single-use apparel, companies can divert these hard-to-recycle waste streams from the landfill and get one step closer to achieving their zero waste goals," explains Jennifer Shaffer, scientific manager, The RightCycle Program, Kimberly-Clark Professional.
Michael G. Baldwin, environmental, health, safety and sustainability leader for Kimberly-Clark's Berkeley Mills facility in Hendersonville, N.C., implemented the program at his facility. "We're always looking for better sustainability efforts from a recycling standpoint," he says, "In the past, we didn't have an outlet for gloves and apparel so it was great to be able to pull those out of our waste streams. And even better to see the products being made into lawn chairs and things of that nature."
Kelly Wolff, a Kimberly-Clark formulation scientist who spearheaded The RightCycle Program launch at the company's administrative sites, believes the program has had a huge impact on reducing waste. "All you have to do is slap a sticker on a box, fill it up and the janitorial staff takes it away. Hopefully, this paves the way for people to develop a new mindset about recycling and sustainability—and shows how a little innovation can make it easy for all of us to do more."
To read more on this article, please visit:
EHS Today: Recycling Program Gives Single-Use Gloves and Apparel Second Life
To find out more about The RightCycle Program, please visit:
www.KCProfessional.com/rightcycle