The Importance of Utility Locates
By: Neil Spaeth, Safety Consultant
About Utilities
On a continual basis, utilities are involved in a vast majority of construction related activities including, but not limited to: excavation and trenching, the use of material handling equipment, crane lifts, and demolition. Per OSHA's Excavation standard, 29 CFR 1926 Subpart P, employers are required to:
- Determine the approximate location(s) of utility installations — including sewer, telephone, fuel, electric, and water lines. One common industry practice is to call 8-1-1, the "Call Before You Dig" number, to establish the location of any underground utility installations in the work area.
- Contact and notify the utility companies or owners involved to inform them of the proposed work within established or customary local response times.
- Ask the utility companies or owners to establish the location of underground installations prior to the start of excavation work. If they cannot respond within 24 hours (unless the period required by state or local law is longer) or cannot establish the exact location of the utility installations, employers may proceed with caution, which includes using detection equipment or other acceptable means to locate utility installations.
- Determine the exact location of underground installations by safe and acceptable means when excavation operations approach the approximate location of the installations.
- Ensure that while the excavation is open, underground installations are protected, supported, or removed as necessary in order to safeguard workers.
The Dangers of Not Knowing Utility Locations
Due to the continual efforts of improving or renovating existing properties, a number of hazards can present themselves if existing utility locations are not known prior to beginning work. This includes but is not limited to electrocution caused from underground electrical conduit and natural gas released into the atmosphere and surrounding work crews. In fact, if an operator or work crew is instructed to dig in an area in which utility locations are not known, the operator can subject themselves to an unexpected reaction leading to equipment failure or unstable soil.
In recent years, OSHA has stated that one of the leading causes of excavation or trenching related injuries is not providing a protective system. This includes pre-planning involving the location of nearby utilities.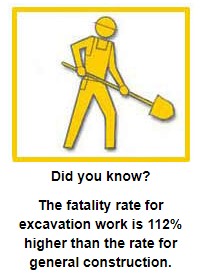 Methods of Protection
Locate Utilities
811 is an available resource with an office in each state. With proper pre-planning, 811 can provide services to locate the approximate location of each utility.
Plan, Plan, Plan
Prior to beginning work, develop a site specific safety plan outlining each step including: locating each utility, digging methods, spotting and communication efforts. After this is developed, a good plan of action is to communicate this plan with the work crew prior to each day's digging activities.
Never Assume
A best practice to communicate to your work crews, particularly when dealing with utilities, is to ensure that the prior steps are being taken to protect each worker. This might include a company-specific practice involving Lockout / Tagout strategies, or the utilization of monitoring equipment while on the job site.
Personal Protective Equipment (PPE)
The importance of workers donning personnel protective equipment (PPE) takes on an added dimension with the threat from hidden utilities on the jobsite. Many manufacturing facility managers, owners, and employees are unaware of the fire hazards from combustible dust. These hazards are found in environments where workers can sustain life-threatening burns from natural gas explosions, flash fires, electrocution, and flying particle hazards related to pressurized equipment. PPE is a necessary precaution and strategy used as an added layer of protection. The most useful strategy in selecting the correct PPE is to conduct a workplace job hazard analysis of each job title to ensure each hazard is known, evaluated, and prevented.