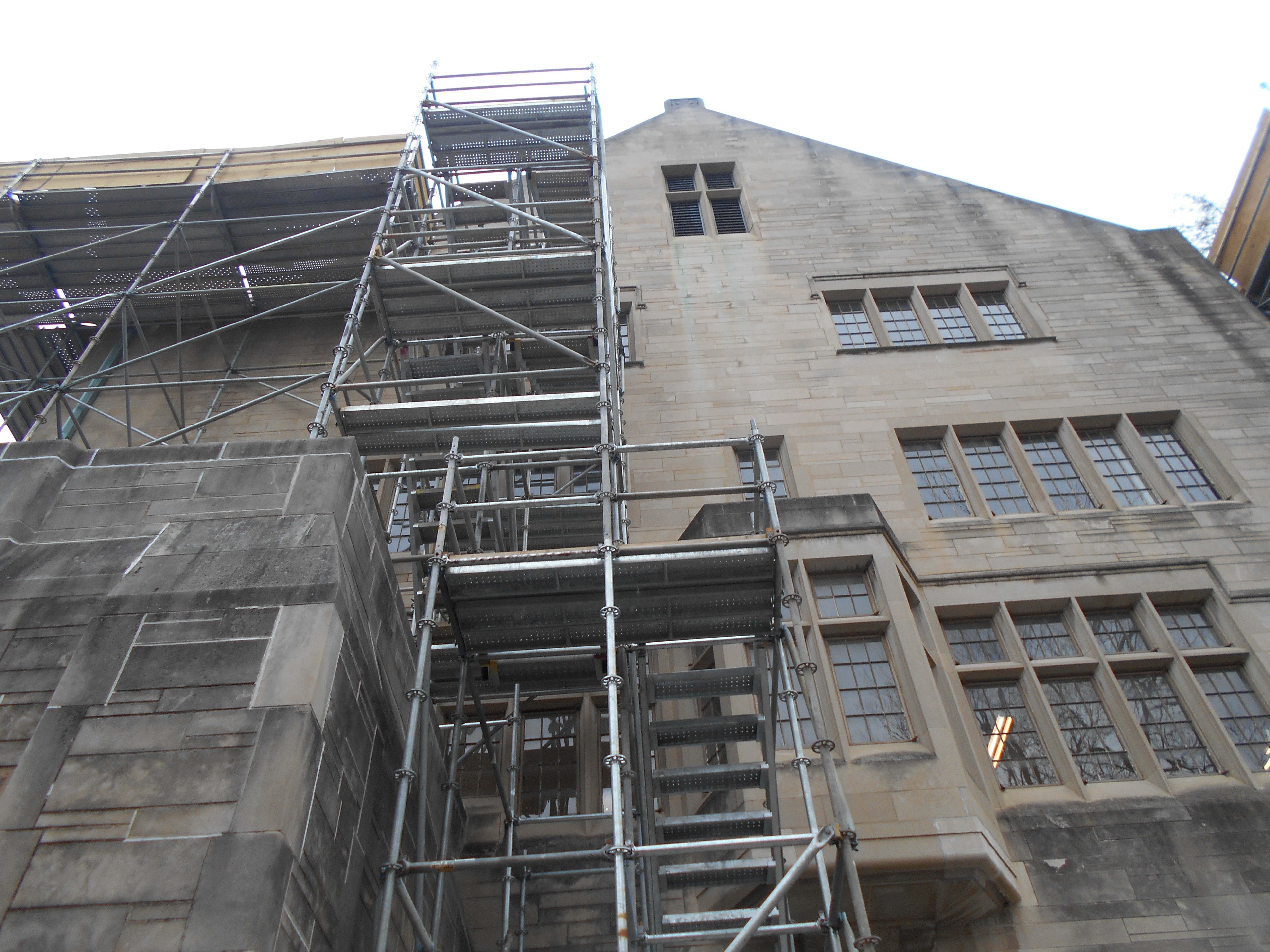 Scaffold stair system installed at a project in Bloomington, IN. (Photo Courtesy of Matt McCreery)
According to an article dated September 22, 2016 from the Safety & Health Practioner, falls from height continue to be one of the biggest causes of fatalities and major injuries in the construction industry. Safety managers therefore need to give careful consideration to how they select the best protection, which will allow construction workers to be most productive on-site while also reducing the likelihood of an accident.
There are currently several different types of stair access solutions on the market, from the common ladder to the more sophisticated scaffolding/access towers. Another option is the site stairway, which for many reasons is the most practical and cost-effective solution.
WHY AND HOW TO CHOOSE SITE STAIRWAYS
In recent years, best practices and increasing regulations have supported the move away from ladders in general construction activities. The Health and Safety Executive states that ladders are the bottom of the hierarchy of controls and that their use may be justified providing it is not reasonably practicable to use other work equipment which will prevent or mitigate a fall.
To successfully navigate a ladder, workers need certain points of contact at any one time and this is not straightforward when they are ferrying potentially heavy and large objects and trying to grip on the ladder rungs simultaneously.
When selecting a site stairway, ensure that a double handrail is positioned on both sides that can be automatically adjusted to the correct height to meet the angle of the stairs. All temporary stairways used on-site should conform to EN 12811, which specifies the rise and going, minimum width, acceptable angles and load capacity.
To provide stability, there must be a locking mechanism, which keeps the stairs at the correct angle. The bottom of the stringers should be designed to prevent slips while the treads should have a coarse non-slip surface to provide added grip. The stability that all these features offer enables workers to move around safely and in comfort.
Site-stairway designs vary and are usually between 750-800mm in width, which permits occasional passing if workers need to ferry large quantities of materials to and from different levels of a building. While only two people can stand on a single tread at one time, multiple users can pass back and forth. This is simply not an option with ladders. In addition, for high-passage rates, the stairways can be set up in pairs, each for one-way traffic.
EASE OF USE AND FLEXIBILITY
Quick and easy to install, site stairways within a matter of minutes can be lifted off transport and secured in place at an angle of between 30 and 55 degrees, as specified in EN 12811. Importantly, whatever the angle of the stairway, the treads will always be horizontal to aid safe movement.
Some of the latest site stairways available on the market are manufactured in steel sections with a durable galvanized finish, come in multiple lengths (such as three, six, nine, 12, 15 and 18 steps) and can be joined and supported to offer a single run climb height of up to 7.5 metres.
Another key benefit of using site stairways is the flexibility they offer. Often on a project, access up through the floors isn't possible until after the early stages of development. When this happens, construction firms will use scaffolding/access towers externally to enable workers to gain access to the top floors. Site stairways can be constructed within the tower to hasten movement.
Site stairways are also very adaptable. For example, if a construction team was digging a hole into the ground, doing work on a basement or undertaking foundation works, they could continue to add sections to the stairs to adjust to the increasing depth. Importantly, this removes the need to take the stairway out and put a new set of stairs in, saving on time and cost.
The only restriction on the use of site stairways is ground clearance. For instance, if a construction team needed to access up to a height of three metres and the ground clearance was only 1.5 metres, then it would not be practical to use the site stairways. The angle would be too sharp to use them and in this instance a ladder may be more appropriate.
COST AND APPLICATION
Scaffolding/access towers are an essential access tool for many developments and can be a good practical solution. They have a wide range of work applications and should conform to EN 12811.
However, for some applications, site stairways are a more suitable solution. Scaffolding/access towers usually require trained installers which can be costly and inflexible. Because there are a lot of components, scaffolding/access towers take up a very large footprint on site until they are assembled, which can be an issue for inner city developments where space is restricted.
Transportation is also a factor that needs to be considered. Depending on the size of the scaffolding/access tower, ferrying them to site may require multiple journeys.
In comparison, site stairways are very easy to install and use. They can be pre-joined to the required length before transportation to site or they can be assembled easily on-site. They can also be folded flat for ease of transport and take up very little room on-site once they are taken off the vehicle.
Two workers can easily install stairways of up to nine steps. They simply fix the top to the upper level with one of a range of attachment devices to prevent movement in use and secure the handrails in place. The bottom of the stringers have points to prevent slipping.
Site stairways have a wide range of applications. However, one area where they can be specifically used because ladders and scaffolding/access towers are not appropriate is on embankments. Even in poor weather when the embankment becomes muddy, site stairways can be securely fastened into the ground. The stairways also have porous steps, which means that rain, snow and mud will not settle and the steps won't become slippery.
MAINTENANCE AND INSPECTIONS
All temporary stair access solutions should be designed and tested to meet the access performance requirements within the European Standard EN 12811 for temporary works equipment. Make sure that the site stairway comes with an inspection list in the back of the user instructions and that the solution is designed so that anyone can examine the stairs.
Combisafe recommends a fortnightly inspection but some construction firms will do inspections more regularly depending upon their safety protocols. Due to the robust construction of the stairway, very little, if any, maintenance is required.
CONCLUSION
Freedom of movement for construction workers is an essential component when it comes to speeding up the completion of building projects to ensure that deadlines are met and cost are kept under control. Site stairways provide access and egress through areas within a construction site more easily and quicker than other temporary stair access solutions.
To read the article in its entirety, please visit SAFETY & HEALTH PRACTITIONER: KEY STEPS TO SELECTING SITE STAIRWAYS.
For more information on Workplace Safety and Training Solutions, check out our
Safety and Osha Training section!