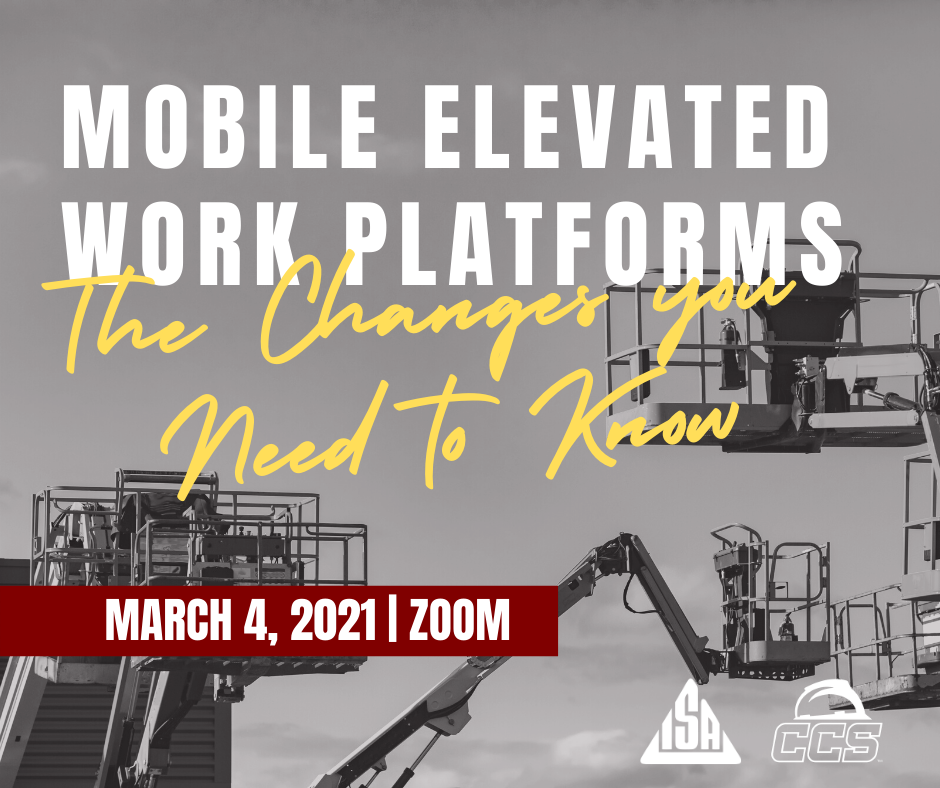 Join the Indiana Subcontractors (ISA) and the Coalition for Construction Safety (CCS) for a virtual Thirst For Knowledge Education Series updating our members on the American National Standards Institute (ANSI) updated regulations regarding mobile elevated work platforms (MEWPs) formerly known as Aerial Work Platforms (boom and scissor lifts). In 2018, ANSI updated their A91 standards with new safe use, training, and design requirements for MEWPS.
During this informative session, Kevin Donohue with SRI will cover specific areas including design changes, the new knowledge/training requirements for Users, Operators, Occupants, and Supervisors. If your company uses MEWPs, ANSI's newest regulations and training requirements are industry-standard best practices. Kevin Donohue is a seasoned safety professional with 30+ yrs at the plant, divisional, and corporate levels involved in both GI and Construction environments. He has been an SRI consultant for two years. He is also a JLG Instructor trained at their McConnellsville, PA facility. We hope you will join ISA for this informative session.
LAST DAY TO REGISTER IS TODAY!
For more information, please vist: Indianasubcontractors.org: MEWP Event.
For more information on Workplace Safety and Training Solutions, check out our
Safety and OSHA Training section!
Do you have a training need or a question for one of our Safety Consultants?
We are here for you – Contact Us.
Check out our Upcoming Networking Events!
Make sure to join us each quarter for our Just The Facts Without The Snacks Zoom sessions! For more information on the schedule of events and registration, visit
Just The Facts Without The Snacks.
03012021