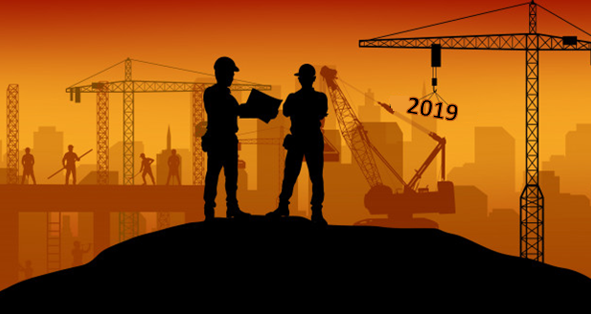 According to an article from Health Safety.com, each New Year brings about new resolutions that range from the achievable to the downright absurd. Most resolutions tend to center around personal well-being, such as promising to spend more time at the gym to get fit, and setting goals to achieve professionally. However, very few take the time to ponder on how to improve health and safety while in the workplace. If you find yourself belonging to the majority who don't make resolutions concerning workplace safety, then why not make this year the time to start making them?
Health and safety should always come first. By resolving to act on improving the health and safety in the workplace, it not only ensures personal safety, but also makes the environment safe and ideal for others as well.
Here are some resolutions that focus on workplace safety for the New Year:
1. LOOK BACK ON THE PAST YEAR.
Review the accidents of the year that just ended. Have there been any documented health hazards due to exposure to asbestos – which has been documented to have affected families due to second-hand exposure? How about slips and falls due to construction safety problems? Were safety trainings sufficient throughout the year, or could this have been improved upon and thereby have prevented the accidents from occurring? Use the happenings from the year before to create better resolutions regarding safety at the workplace.
2. REVIEW COMPANY POLICIES ON HEALTH AND SAFETY.
Take some time to look through the company policies, and review health and safety rules and regulations. Check if there are ample facilities that can prevent any hazardous substances and materials from sticking to skin and hair (such as asbestos) from being brought home and endangering the lives of family members. Know your rights as an employee, and find out if the company that you're working for has provided sufficient information on keeping safe in the workplace.
3. ASK QUESTIONS.
Some tasks may be too dangerous, or too difficult for one single person to perform. When in doubt about the safety of a certain job, don't be afraid to speak out. Asking questions opens the line of communication between the worker and the management, and may prompt the higher ups to modify safety rules and regulations should one task be found to put health or life at risk.
4. INSPECT PERSONAL SAFETY EQUIPMENT AND GEAR.
The holiday season preceding the New Year is a great time to check safety gear and equipment. Is the safety vest still properly fitted, or have the boots lost their non-skid ability? Do the safety glasses still allow clear vision, or does the helmet need replacement? Don't skimp on this resolution, and ensure that all your safety equipment and gear are in tip-top shape before starting work on the New Year.
5. ACKNOWLEDGE DISTRACTIONS – AND THROW THEM AWAY.
Activities that distract from tasks that need to be accomplished are distractions that should be thrown away along with the year that just ended. These distractions take away the concentration that should be poured into the task at hand. One seemingly small slip may have serious repercussions in the form of health risks, or worse, loss of life. Keep these distractions at bay when working, and focus on the job that needs to be done.
6. KNOW WHO TO CALL IN AN EMERGENCY.
For any workplace safety-related concerns, knowing who to call or approach is as vital as knowing how to avoid hazardous situations. Emergency situations call for immediate action, so it's best to find out beforehand who to turn to for those times when safety is compromised at work.
While it is the legal obligation of the company or the employer to provide a safe working environment to its employees, there's no harm in taking that added step to ensure personal safety at work. Simply becoming better informed about health and safety policies governing the workplace is a good start. Doing so could lead to a better "2019" that's free from accidents and health hazards.
To read the article in its entirety, please visit HEALTH SAFETY.COM: WORKPLACE SAFETY RESOLUTIONS FOR THE NEW YEAR.
Want to kick-start 2019? Check out our Safety and OSHA Training section! Our team of professional safety consultants with various specialties and areas of expertise is here to serve you! We work for our clients by customizing our services to precisely fit YOUR needs at all levels of operational and executive levels and can relate to circumstances related to safety in all settings in the industry. Let us utilize our expertise for the benefit of you and your employees.
"Saving Lives. Saving Companies."
That's what we do!

---
Related Topics: Accident Prevention, Aerial Lifts, American Society of Safety Engineers, American Society of Safety Professionals (ASSP), ASSE, Authorized IACET Provider, Authorized Provider of Continuing Education Units, Back Injuries, Back Injury Prevention, Back Pain, Backhoe Safety, Behavior Based Safety, CCS, Central Indiana Chapter (CIC), CEUs, Charity, Charity Event, Chute Safety, Clients, Coalition for Construction Safety, Combustible Dust, Confined Spaces, Construction Safety, CPR, Crane Safety, Crisis Management, CSP Certification, De Minimis Violations, Demolition Safety, Dermatitis, Derrick Safety, Did you know, DOTs, Driving Safety, ELD, Electric Power Generation, Electronic Logging Devices, Emergency Action Plan, Employee Outing, Employer Affirmative Defense, EMR, Environment, Ergonomics, Ergonomics in Healthcare, Excavation Safety, Experience Modification Rating, Eye Protection, Fall Protection, Federal Motor Carrier Safety Administration, Fire Prevention, Flagging Traffic, FMCSA, General Industry and Construction Standards, GHS, Global Harmonized System, Globally Harmonized System of Classification and Labeling of Chemicals, Golf Outing, Hazard Analysis, Hazardous Waste, Heat Safety, Hoist Safety, Home Safety, Hypothermia, IACET, IIPP, In the field, In the News, Indiana WBE, Injury & Illness Prevention Plans, ISNetworld, Jobsite Safety, Ladder Safety, Lead Abatement, Lightning Protection, Lockout Tagout, MICCS, Monthly Safety Topics, NAOSH, National Safety Month, NAWBO, Networking, Networking Event, NPRM, Nursing Safety, OSHA, OSHA 30 Hour Construction, OSHA Citations, OSHA Compliance, OSHA Compliance Audits, OSHA Enforcement, OSHA Hazard Communication Standard, OSHA Inspection, OSHA Inspection Procedures, OSHA Letter of Interpretation, OSHA Recordkeeping, OSHA Reporting, OSHA Respiratory Crystalline Silica Standard, OSHA Safety Violations, OSHA Severe Violator Enforcement Program, OSHA Silica Rule, OSHA Training, OSHA Willful Violations, Pallet Jack Safety, PEC, PICS, PPE, Press Release, Rebar Safety, Recycling, Risk Assessment, Safety Articles, Safety Awards, Safety Awareness, Safety Compliance, Safety Consulting, Safety Culture, Safety Events, Safety Hazards, Safety Incentive Programs, Safety Myths, Safety Professionals Day, Safety Programs, Safety Reporting, Safety Resources News, Safety Staffing, Safety Statistics, Safety Tips, Safety Tools, Safety Training, Safety Training Programs, Saw Safety, Scaffolding Safety, Service Hours, Short Read, SIF, Silica Rules, Summer Safety, SVEP, Team Building, Training, Utility Safety, Voluntary Protection Program, VPP, WBE, WBENC, Welding Safety, Winter Safety, Work Zone Safety, Workers Comp, Workplace Safety, Workplace Violence, Zika